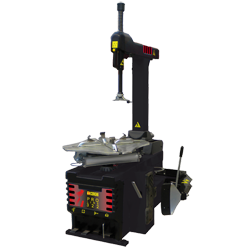 Automatic tire changer for cars, lightweight transport vehicles and motor vehicles.
MAIN FEATURES
• Air operating tilting of column
• Mechanical balancing of tool-holder shaft
• Simultaneously tool alignment with clamping by simply pressing a button
• Double acting bead breaker cylinder
• "Square" self-centering chuck with rotation in 1 speed in both directions
• Thermoformate carter for small obkects at the base of the column
• Available with traditional inflation or T.I. bead insertion and inflation system
The company could modify the characteristics of the products anytime.
Corghi Usa Inc.
6067 Schumacher Park Dr
West Chester, OH 45069
Tel:
Local number (513) 874-5958 , Toll free 1-800-260-0968
The manufacturer reserves the right to modify the characteristics of its products at any time.