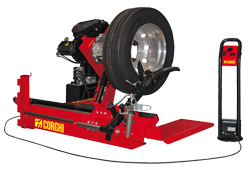 Electrohydraulic tyre changer for rim sizes from 14" to 26"

The ideal machine for the professional who needs an essential solution but refuses to sacrifice quality

For demounting and mounting inner tube

and tubeless type tyres for trucks, buses and industrial

vehicles with annular groove or elastic ring type rims.

SIMPLICITY
The greatest strength of this new tyre

changer is that it can be used to work easily on any rim

size up to 26". Compact dimensions make the HD700 a

practical and versatile tool, while still ensuring the stability

and functionality necessary to work profitably on this

type of wheel.
Notes
Rim clamping
14" ÷ 26"
Maximum wheel diameter
1600 mm (63")
Maximum wheel width
780 mm (30")
Maximum wheel weight
1200 kg
Machine weight
555 kg
Machine dimensions
minimum
maximum
mm
(l x p x h)
(l x p x h)
The company could modify the characteristics of the products anytime.
Corghi Usa Inc.
6067 Schumacher Park Dr
West Chester, OH 45069
Tel:
Local number (513) 874-5958 , Toll free 1-800-260-0968
The manufacturer reserves the right to modify the characteristics of its products at any time.