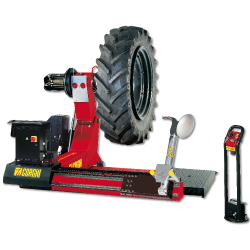 Semi-automatic tire changer
The essence of solidity and reliability, without compromises.
For use with a wide range of wheel.
Capable of handling tire widths of up to 58" and a maximum wheel weight of 4189 lbs.
The HD1400E uses electric-hydraulic operation. The hydraulic power ensures top performance levels. The hydraulic power unit is mounted on the machine in order to minimize its size.
The HD1400 features the START & STOP function, guaranteeing notable energy savings while the machine is not being used.
The company could modify the characteristics of the products anytime.
Corghi Usa Inc.
6067 Schumacher Park Dr
West Chester, OH 45069
Tel:
Local number (513) 874-5958 , Toll free 1-800-260-0968
The manufacturer reserves the right to modify the characteristics of its products at any time.