HD 1300 - HD 1300 R Radio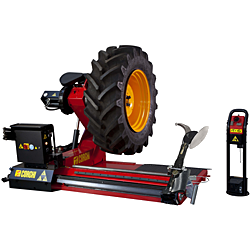 MULTIFUNCTION TIRE CHANGER
Wheels from 14" to 56".
Tire width up to 51".
Maximum wheel weight 3700 lbs.
Maximum tire diameter 86".
Available with cabled or radio wireless control console.
Wide range of accessories.
Extremely compact dimensions for working with complete peace of mind on truck, agricultural machine and earth moving machine wheels.
The HD 1300 and HD 1300 R feature a sturdy and robust operated tool arm.
Wireless radio control for the HD 1300 R.
The company could modify the characteristics of the products anytime.
Corghi Usa Inc.
6067 Schumacher Park Dr
West Chester, OH 45069
Tel:
Local number (513) 874-5958 , Toll free 1-800-260-0968
The manufacturer reserves the right to modify the characteristics of its products at any time.