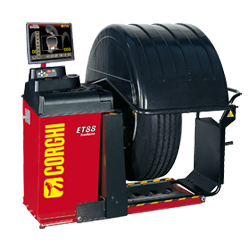 The ET88 is Corghi's top-of-the-range balancing machine for truck wheels.
Low balancing speed, optimisation of average balancing speed, 7 ALU truck and car programs, automatic acquisition of wheel/machine distance, adhesive weight application device, stunning user-friendly graphic interface, automatic weight application position search, visual wheel wobble inspection, automatic identification of fitted wheel (truck/car), OPT FLASH and 200kg lift with safety handle: these characteristics, together with its original design, place the ET88 at the top-of-the-range.
The company could modify the characteristics of the products anytime.