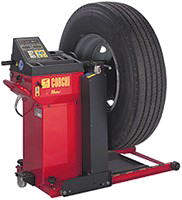 A compact, extremely precise display balancing machine for truck wheels, the ET 66, is fitted on wheels for improved handling and ease of transport, is particularly suitable for external use on equipped vehicles.
The ET66 has a dual display control panel which is designed to be user friendly.
It is equipped with an integrated lift for raising wheels up to 330.7 lbs and is supplied with a wide choice of balancing programs.
Available in manual or motor-driven spin device versions, it also operates with a 12V battery.
The company could modify the characteristics of the products anytime.
| | |
| --- | --- |
| Brochure | |
Corghi Usa Inc.
6067 Schumacher Park Dr
West Chester, OH 45069
Tel:
Local number (513) 874-5958 , Toll free 1-800-260-0968
The manufacturer reserves the right to modify the characteristics of its products at any time.