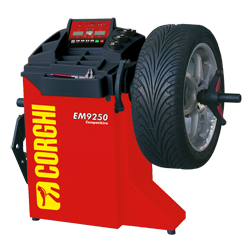 Balancing with display compact and essential with professional performances.
A double display control panel enables a quick and intuitive selection of the balancing mode and immediate access to the most common operating functions.
Weight tray ergonomic and functional, it features many large tray to house all different types of weights and the various tools.
Spin unit derives from the superior models of the B-Series and provides functional features typical of the upper models: reduced cycle time, measuring wheels weighing up to 165,3 lbs and wheel balancing with inside offset of up to 10,8" without using additional spacer. The innovative drive and zero maintenance ensure maximum reliability.
Electronic input of wheel diameter and distance with FSP function which automatically activates the balancing programmes, avoiding keypad selection (*). Three modes to position the adhesive weights: with the weight holfer clip (*), with the 6 o'clock laser indicator (*) or manually at 12 o'clock.
LED spotlight to light-up the work area and make it easier to clean the rim, check the wheel and apply weights. The adhesive weights can be positioned extremely rapidly using the laser pointer at 6 o'clock.
Front support base for balancing wheels up to 110,2 lbs without fastening the machine to the ground.
* Optional function or accessory. See diagram.
The company could modify the characteristics of the products anytime.
Corghi Usa Inc.
6067 Schumacher Park Dr
West Chester, OH 45069
Tel:
Local number (513) 874-5958 , Toll free 1-800-260-0968
The manufacturer reserves the right to modify the characteristics of its products at any time.