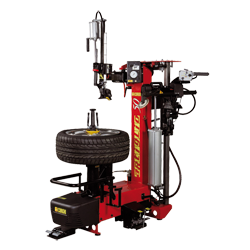 The ARTIGLIO 50 is an evolution of the automatic tyre changer featuring the "leva la leva" technology. In other words, operatives continue to use the usual procedures, with no change to their routines, but with absolutely none of the physical effort and risk of damaging particularly delicate or demanding rims and tyres. At the same time, working times on all latest-generation wheels (from low profile to all run flat types) are slashed.
The company could modify the characteristics of the products anytime.
Corghi Usa Inc.
6067 Schumacher Park Dr
West Chester, OH 45069
Tel:
Local number (513) 874-5958 , Toll free 1-800-260-0968
The manufacturer reserves the right to modify the characteristics of its products at any time.