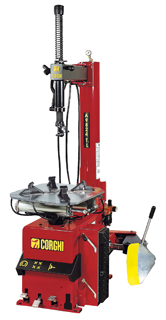 SERIES PASSENGER, LIGHT TRUCK TIRE CHANGERS

Superior quality teamed with a sleek design and other unique features allow this machine to achieve speeds up to 50% faster than any other tire changer on the market in its price range. That's why Corghi was awarded ISO 9001 Quality Certification, industry's most coveted award. Run-flat certified by all major tire manufacturers.

Features
• 2 speed turn table.
• Built-in table inflator with jets in the jaws.
• Unique mount/demount head does not touch the rim during operation.
• Locking handle locks head away from the rim.
• Powerful action bead-breaker blade follows bead to inside rim contour.
• Heavy-duty turntable rotates in either direction.
• Rebuildable stainless steel cylinders.
• Heavy-duty stainless steel turntable.
• Safe, fast, profitable and affordable.
• Bead-pressing lever.
• Upper arm assembly swings out-of-way.
• Shipping weight 608 lbs.
• Also available with air motor.
The company could modify the characteristics of the products anytime.
| | |
| --- | --- |
| Brochure | |
Corghi Usa Inc.
6067 Schumacher Park Dr
West Chester, OH 45069
Tel:
Local number (513) 874-5958 , Toll free 1-800-260-0968
The manufacturer reserves the right to modify the characteristics of its products at any time.